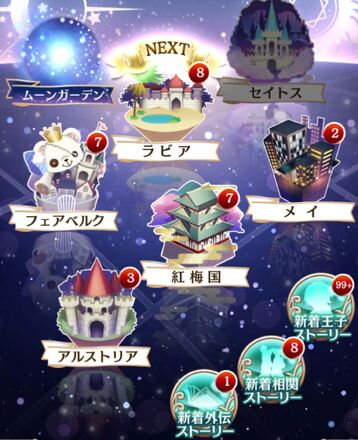 World Map (ワールドマップ) is where you can access all locations, quests and stories.
All locations will not available if you are just starting the game. You are required to go through the main story quests before you can unlock more locations. 
To know where the next main story quest is, the sign 'NEXT' will appear above the location and area.
Lands
Alstoria Castle (アルストリア城)
Alstoria Castle Town (アルストリア城下町)
Riverside Town 

(

川辺の街)
Cheval Church 

(

シュヴァル教会)
Verdant Town 

(

緑豊かな街)
Tower of Ordeal 

(

試練の塔)
Town Where Knights Assemble 

(

騎士が集う街)
Dark Forest 

(

暗闇森)
Shrine of Knights 

(

騎士の祠)
The Forest of Beginnings 

(

はじまりの森)
Town of Merchants (商人の街)
Cave of Evil Spirits (魔の洞窟)
Town Where the Steam Whistle Echoes (汽笛がく街)
Fairberg Castle (フェアベルク城)
Town of Dreaming (夢見の街)
Lake Town (湖の街)
Toy Factory (おもちゃ工場)
Forest Where Flowers Bloom (花咲く森)
Water Town (水の街)
Toy Shrine (おもちゃの祠)
Shining Water Town (水光る町)
Koubai Castle(紅梅城)
Town of Dancing Cherry Blossoms (桜舞う町)
Monomiyama Mountain Range (物見山脈)
Town of Early Summer Breeze (風薫る町)
Shrine of Wishing Lights (願い灯の祠)
Bottom of Koubai Mountain (紅梅の麓)
Town Where Leaves Change Colour (葉色づく町)
Lonely Forest (孤独森)
Town of Hazy Darkness (幽冥の街)
Mei Park (メイ公園)
Royal Palace of Mei (メイ王宮)
Town of Eternal Darkness (常闇の街)
Rain Mist Town (雨霧の街)
Town Where Rain Doesn't Stop (雨が止まない街)
Shopping District of Mei (メイ繁華街)
Black Tower (黒の塔)
Scorching Desert Road (灼熱の砂路)
Withering Tree on Sandy Soi l(枯れ木のある砂地)
Oasis Where Flowers Bloom (花咲くオアシス)
Nole (ノウル)
Big Sand Hill of Rabia (ラビア大砂丘)
Entrance of Astemeri Ruins (アステメリ遺跡入口)
Depths of Astemeri Ruins (アステメリ遺跡深部)
Remains of Desert City (砂漠都市の跡)
Paradise of Illusions (幻の楽園)
Dwellings near Astemeri Ruins (アステメリ遺跡離れ)
Town of Green White Light (緑白光の街)
Forest of Pale Light (薄光の森)
Shrine of Phantom Light (幻光のほこら)
Temple of Seitos (セイトス神殿)
Defense Hut (守り小屋)
Town of Red Light (赤光の街)
Town of Violet Light (紫光の街)
Forest of the Aurora Borealis (極光の森)
Skylight Mountain Range (天光山脈)
Old Light Ruins (古光の遺跡)