Character Info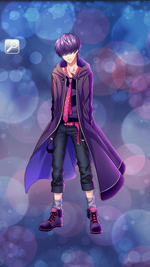 今、手離せないからー…… そこらに適当に座っててくれるー…
At the moment, I can't let go of this, so... can you please sit over there...
Country 
Land of Poisons, Molphan
Profile
Prince of the Land of Poisons, Molphan. He has a laid-back personality and doesn't assert himself. He is proficient at making poisons and spends his days researching and making poisons. Sometimes he gets too absorbed at his research that he forgets to eat.
Motto 
Like something to the end
Hobby 
None (only he thinks that, but actually he has quite a few fixations)
Habit 
playing with his hair bangs
Sample Voice
サンプルボイスの日本語文章
Translation of the Japanese sample voice
[[File:{{{clip}}}|{{{clip}}}]]
How to Acquire
One of the selectable characters upon completing the tutorial
Prince Gacha
Friends Gacha
Stats & Awakening
Initial
Type
Cute

Rarity
★★★
Cost
5
Max Level
40
Limit Break Level
Stats
HP
Attack
Recovery
Initial
269
202
219
Max
546
390
422
Limit Break
Leader Skill
Name
Deadly Poison Researcher (猛毒の研究者)
Effect
More damage during attack time (medium)
Battle Skill
Name
Poison Illusion (幻覚のプアゾン)
Effect
higher probability of yellow pieces appearing
Sun
Type
Cute

Rarity
★★★★
Cost
9
Max Level
50
Limit Break Level
Stats
HP
Attack
Recovery
Initial
492
70
401
Max
737
456
570
Limit Break
855
529
661
Leader Skill
Name
Deadly Poison Researcher (猛毒の研究者)
Effect
More damage during attack time (large)
Battle Skill
Name
Pleasure Poison (快楽のプアゾン)
Effect
higher probability of yellow pieces appearing
Moon
Type
Cute

Rarity
★★★★
Cost
9
Max Level
50
Limit Break Level
Stats
HP
Attack
Recovery
Initial
492
370
401
Max
639
526
570
Limit Break
741
610
661
Leader Skill
Name
Deadly Poison Researcher (猛毒の研究者)
Effect
More damage during attack time (large)
Battle Skill
Name
Confusion Poison (惑乱のプアゾン)
Effect
higher probability of yellow pieces appearing (large)
Awakening Requirements
| Route | Fairies | Gold |
| --- | --- | --- |
| Sun | Grimoire x1, Fairy lady (yellow) x2, Fairy baby (yellow) x1, Sun fairy (yellow) x2 | 100,000 |
| Moon | Grimoire x1, Fairy lady (yellow) x2, Fairy baby (yellow) x1, Moon fairy (yellow) x2 | 100,000 |